19th June 2022
That special Sunday in June is right around the corner and like most of us, you'll probably be thinking 'what do I get a man who has everything?' Well to celebrate the men who raised us, our role models, and best friends, we believe memories are more precious than things, so we have put together a list of the top 5 Father's Day activities for 2022 to truly show them how much they mean to you.
SOMETHING FOR THE ADULTS
1. Vineyard Tour and Tasting
A vineyard tour is one of the best things to do for Father's Day, although we may be slightly biased. For those who believe they are a wine connoisseur, like to impress their friends with their superior knowledge over dinner, or simply just love a glass or two of wine – why not treat them to a vineyard tour on our stunning Sussex estate? They will be taken on a journey from grape to glass followed by a tutored tasting of our award-winning English wines. Why not also book a table at The Eighteen Acre after your tour for a spot of lunch with locally sourced, seasonal dishes?
DISCOVER VINEYARD TOURS
FOR THE GIN LOVERS
2. Sussex Distillery Tour
We all know gin has seen a surge in popularity over the last few years with it becoming the favourite tipple for both women and men alike. If your dad (grandad, uncle, brother or whoever else you may be choosing to celebrate this year) is a gin advocate and loves a refreshing gin & tonic once in a while, then why not take them to a local distillery. Here, they can learn how our friends over at Madam Jennifer's Distillery in Hove make their delicious gins, vodka and other spirits.
If your father figure is more of a beer lover than spirits, then how about taking a trip into Brighton's bustling lanes and visit BrewDog where you can enjoy around thirty of the best craft beers on tap!
DISCOVER DISTILLERY TOUR
FUN FOR THE WHOLE FAMILY
3. A Game Of Golf
In Sussex we are blessed with an abundance of beautiful golf courses nestled through the picturesque countryside, so why not make a day of it this Father's Day and enjoy a round of golf with the family, or a morning of activities at the driving range. Cuckfield Golf Course if a great place for all, with its 9- or 18-hole course and a covered driving range, there truly is something for everyone.
BOOK NOW
Or if you're looking for something a little different and fun for all ages, take a family trip to Out of Bounds in Angmering and play a round of adventure golf. Enjoy a wild safari trail with waterfalls, palm trees, a broken down and smoking jeep, a pull along raft and lots of majestic animals to wow and delight your guests.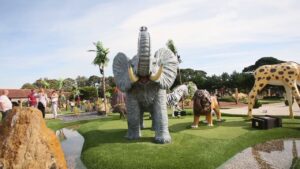 FOR THE FOODIES
4. The Perfect Pub Lunch
They say the way to a man's heart is with food, so what better day to enjoy a delicious, hearty pub lunch than Father's Day. From roast dinners to á la carte dishes, discover our top Sussex pubs of choice:
WATCH A  MATCH
5. Hove Blast Cricket
Soak up the mid-June sunshine and enjoy a day out at Sussex's favourite cricket ground, Central County Ground in Hove, which has been the home of Sussex Cricket since 1872. Enjoy the thrill of the Sussex sharks, playing a T20 cricket match, with the whole family.
BOOK TICKETS