When Sam Linter, Bolney MD and Head Winemaker, first took the reins of Bolney back in 1995, she was determined to make a change. For Sam, it wasn't just about pushing boundaries when it came to making wine, but to see more women at the forefront of the English wine industry.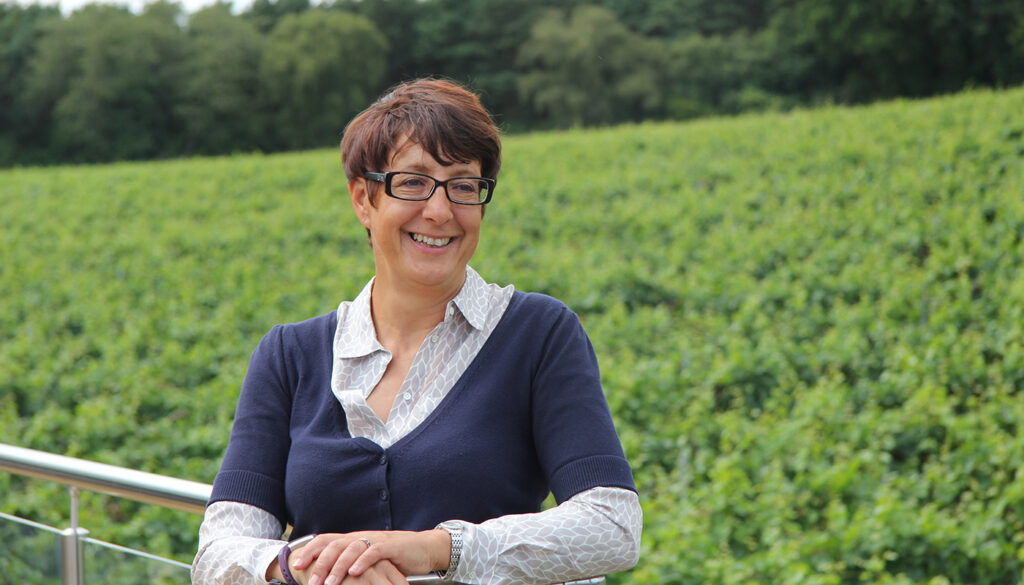 As Bolney Wine Estate started to grow, Sam's focus pivoted from winemaking to leading the business, taking on assistant winemakers to work alongside her. As time went on it became clear that a full-time winemaker was required, taking responsibility of the winery and production, working alongside Sam who still to this day retains the overall direction, styles and quality of our winemaking.
Sam's vision for this role was to work alongside someone with the same passion for wine as her, with great attention to detail and who could bring fresh ideas and experience to our winemaking. In 2021 Bolney welcomed Cara Lee Dely as Productions and Operations Manager.
Having grown up in South Africa, Cara Lee diverted her childhood dream of being a helicopter pilot into winemaking. This newfound passion meant she would have to learn from experience and guidance, and over the next ten years developed her career, with the majority of that time working for award-winning wine estate, Môreson in South Africa, under the guidance of Head Winemaker, Clayton Reabow.
It was here she decided that she was ready to take on the English wine industry. In the spring of 2021 Cara Lee started at Bolney Wine Estate to head up the winemaking operations, working alongside Sam and the top-class winery team.
To celebrate International Women's Day, discover Cara's inspiring story as a woman in wine.
What inspired you to become a winemaker?
Whilst I was working towards my pilot licence, my father passed away in an airplane accident. This naturally made me step back and reassess my life – I was 20 years old and a bit lost.
During a holiday with my family, we visited a wine estate called Packwood in South Africa, which is a family name going back centuries. I very much believe some things are meant to be and I expressed how excited I was. In turn this caught the attention of the owners of the estate and within a few hours I had agreed to move there and help out on the farm.
The first day I walked into the winery when the wine was undergoing its initial fermentation, I took a deep breath in and fell in love. From there, I made it my goal in life to become a winemaker. When I started learning about wine, I realised why I was so attracted to it – it is a profession that has a beautiful synergy between science and art. This application of the two inspires me every day.
What makes you most excited about your job? 
When you have a plan for the day, the wine dictates how this plays out, every day is different. It opens your mind up to thinking on your toes, and allows you to watch how diverse wine can be, seeing it grow into something exceptional. It is like everything is in suspension the entire time and only when it goes into bottle does it all come together.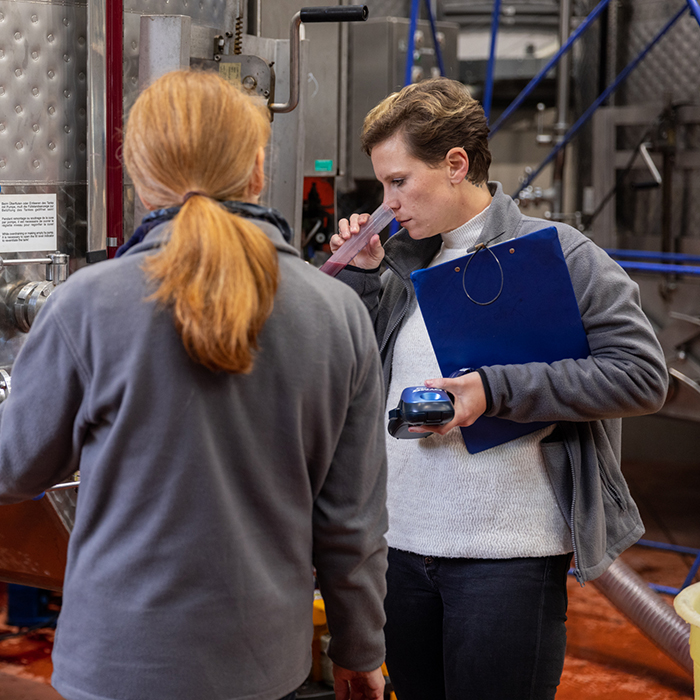 What are your greatest challenges as a winemaker?  
The greatest challenges always relate back to what excites you, because wine is so temperamental and is constantly changing, it creates an environment that can be quite unsteady. You need to be realistic and flexible to the fact that your day could take an unexpected turn in the name of quality and perfection, this can be tough for someone like me who thrives on organisation and planning!
What are your guidelines in the winemaking process?
My father was a professional photographer and he would always say that a photograph is only exceptional when it is captured correctly in the camera. When photographers only had access to film they didn't have a second chance at capturing the soul of an image and in the new era of digital, because it was so instant, more mistakes where being made and the photographers were relying on technology to fix it. This is how I feel around harvest, this is the one and only time to capture and embrace the soul of the wine and make a product with minimal interference that allows us to showcase the integrity of the fruit. In my winery, the harvest runs with the concept of not compromising on anything that could compromise the wine's taste and longevity.
What is your favourite wine to produce at Bolney? 
Chardonnay, this variety is one that has such extreme diversity; it can offer you the opportunity to make still wines that are rich and full or lighter and leaner. It is also great for sparkling wines and can even produce an opulent and complex dessert wine. There are opportunities with this variety to make unlimited styles of wines.
Celebrating women at Bolney Wine Estate
We spoke to just a few of the brilliant women who work at Bolney Wine Estate, about what it's like working here.
Mili André | Events & Hospitality Support Supervisor
"I started at Bolney in the midst of the pandemic, having spent most of my career in hospitality. I love the diversity of my job role here at Bolney. One day I might be organising virtual wine tastings and another day I will be helping the winery team with bottling. Not only do I get to work on a beautiful vineyard, but I get to learn about the wonderful world of wine."
Sam Linter | Head Winemaker & Managing Director
" I love working in the English wine industry, I think the process from grape to glass will always fascinate me. We grow grapes that we can then turn into a product which people enjoy drinking. How cool is that! This year we are celebrating our 50th anniversary which means a lot to me and I thank everyone who has supported us over the years – cheers to 50."
Emma Fogerty | Head of Marketing
"I started at Bolney in 2019 and have loved every minute. Every day is different. My role as Head of Marketing is challenging, always busy and a lot of fun. There's always exciting things happening. I feel very lucky to be able to work somewhere where I can see and be part of the product we're selling and growing – on the vines right in front of our office!"